We had a testing session this afternoon for the students in our ham radio class. In short, everyone passed the test they studied for, and a couple passed the test above that! We have three new General class and eight new Technician class licensees.
Congratulations to all who studied so hard and passed the test!
We will be getting together on the radio soon to learn how to use our new communications skills, in a friendly, low pressure way. Look for an email about this.
Way to go!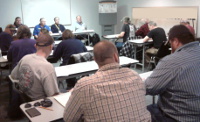 Thanks to Wally, WD1U, and the other Volunteer Examiners who did the testing duties.